our elopement story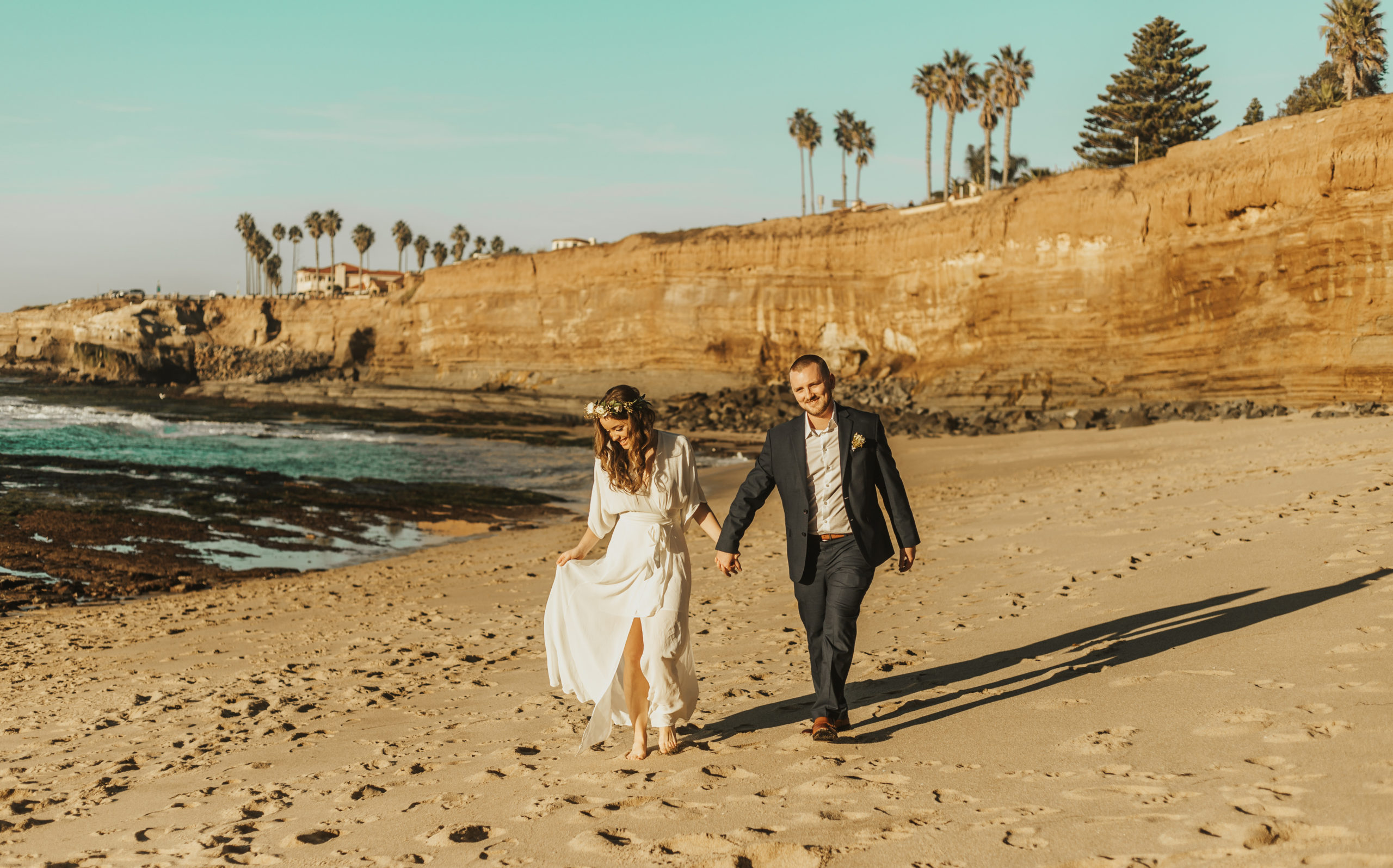 On December 12, 2019 I married my best friend in San Diego but our story began way before that magical day.
the beginning
Sean and I met for the first time at a high school football game in 2008. He was actually dating my best friend at the time which is hilarious looking back now- we all three laugh about it! Sean and I didn't see each other much after that since we went to different high schools. It wasn't until the summer of 2009 when I got my first cellphone (lol) that we connected again. We started texting daily and our daily texting turned into 4 hour phone calls talking about anything and everything. We quickly fell for each other! Finally on December 12, 2009 we became official. Sean wasn't my first boyfriend, but he was the first boy that made me feel like I could be totally myself, the first boy that made me feel safe, and the first boy that made me laugh constantly.
how he proposed
fast forward to 2017. My fall break in my last year of college was coming up and I started planning a weekend getaway trip to Asheville with Sean. We had been long distance (2 hr. drive apart) for a few years with me in college so any chance I got to spend more time with him, I took it! He was all about this trip too, which was slightly suspicious because Sean is not really a mountain-y hiking type of person but I went ahead and made all the plans. I did have some thoughts that Sean might propose on this trip because just a couple months before we looked at rings and I picked out my dream simple solitaire. I pushed those thoughts aside though because there was no way he would pop the question on a weekend that I planned…little did I know! We drove to Asheville, hiked up Chimney Rock, and at the top he got down on one knee. I was stunned and even amidst a small crowd of people around us, it felt like time stopped and it was just the two of us. I of course said yes! After the proposal, Sean surprised me with having a group of our friends meet us at a restaurant downtown Asheville. It was so much fun to have some of our people there to celebrate with!
why we chose to elope
It didn't take long for us to decide that we wanted to elope. We knew before we were even engaged that we wanted our day to be simple and intimate. When I thought of our wedding day, I thought scenic views, reading our vows just between us, me wearing a flower crown, and a small group of our loved ones there. Looking back now, it is crazy to me that everything I dreamt up in 2017 for our elopement day came true in 2019!
planning the elopement
I quickly realized that even planning a simple elopement day can be tricky. At first, I started planning for the elopement to be in Asheville but that got a bit complicated with trying to find the right spot in the blue ridge mountains and finding someone to be our officiant since our local courthouse doesn't allow in-house marriage ceremonies. At one point, I gave up on the elopement idea and started planning for a small wedding (75 people) in our home town. But, I put a stop to that because I knew in my heart it wasn't what I wanted.
Late October 2019, we got the idea to elope in San Diego. Sean had an upcoming event for work in December and it happened to fall on the week of our 10th anniversary. I checked the San Diego courthouse and they allowed in-house marriage ceremonies! It was fate!! We told our family, I ordered a dress, stalked #sandiegophotographer to find the right photographer for us (hey Mitch!) and all the other little details fell into place. All links and vendors are linked at the end of this post!
the elopement day
I had a lot of help from Mitch, our incredible photographer and San Diego native, with planning the itinerary of the day. Since I had never even been to San Diego before, she was incredibly helpful! She encouraged me to schedule the photos around golden hour for the best photos which meant we had to pick the early time slot at the courthouse (FYI the San Diego courthouse gets booked quick for weddings!). From there, I planned a time to get hair/makeup done and scheduled dinner reservations. My parents, sister, niece, nephew, and two of our friends joined us for the day. Here is how is all went down:
8:30am- Courthouse. Sign marriage license and have the marriage ceremony (!!)
10:30am- Cafe Gratitude. Celebratory breakfast with friends and family.
1:30pm- Airbnb. Hair and makeup by Luna Beauty
3:00pm-Sunset Cliffs. Meet Mitch there and take photos.
6:00pm- Tom Ham's Lighthouse. Dinner with water views
The day went perfectly smooth! We went with the flow and had fun all day long. On a whim, we wrote our vows to each other minutes before walking into our courthouse appointment. We then read them to each other on the secluded beach where we took the photos. Those two moments were hands down my favorite parts of the day. That is one of the reasons why I loved that we eloped- no strict schedules to follow! I truly would not of changed a single thing about our day…it was pure magic.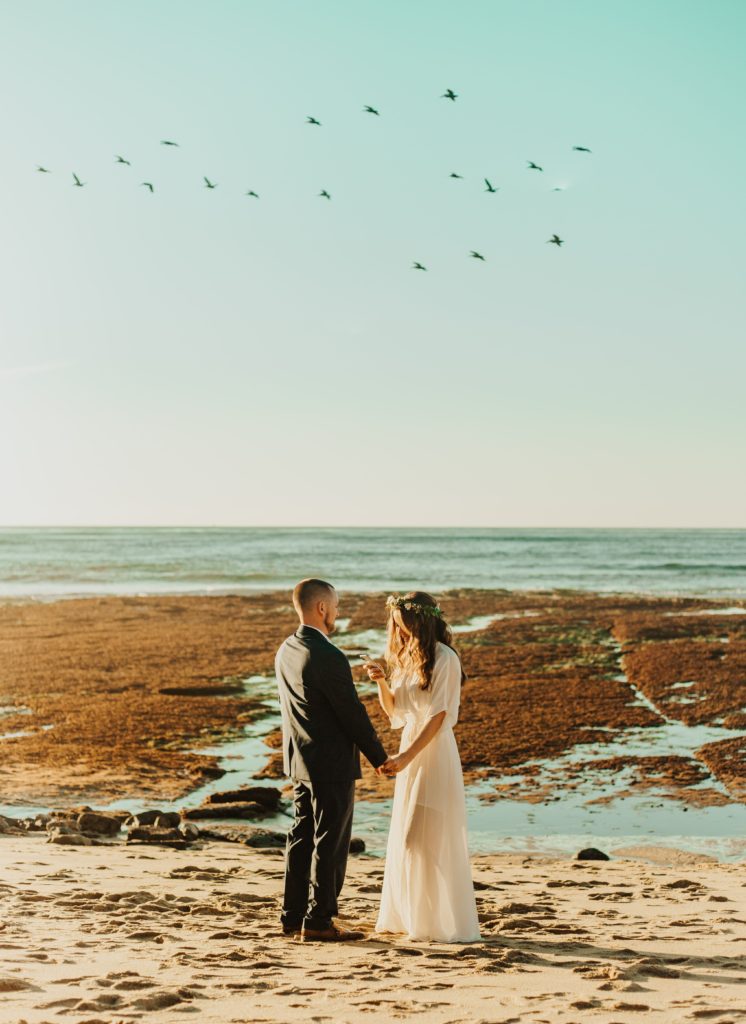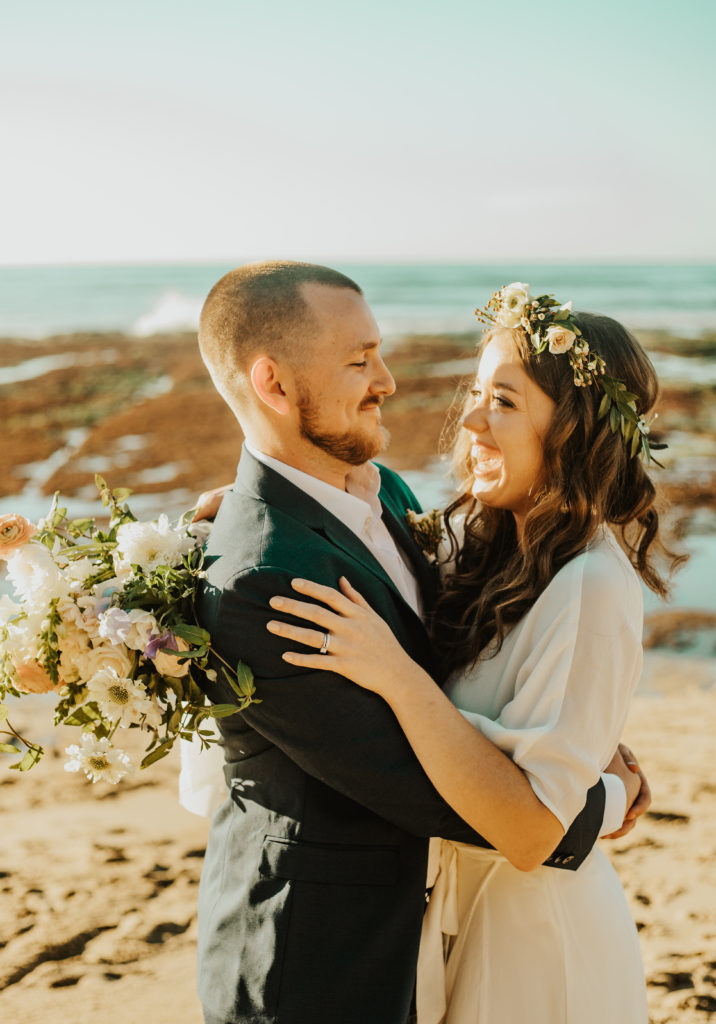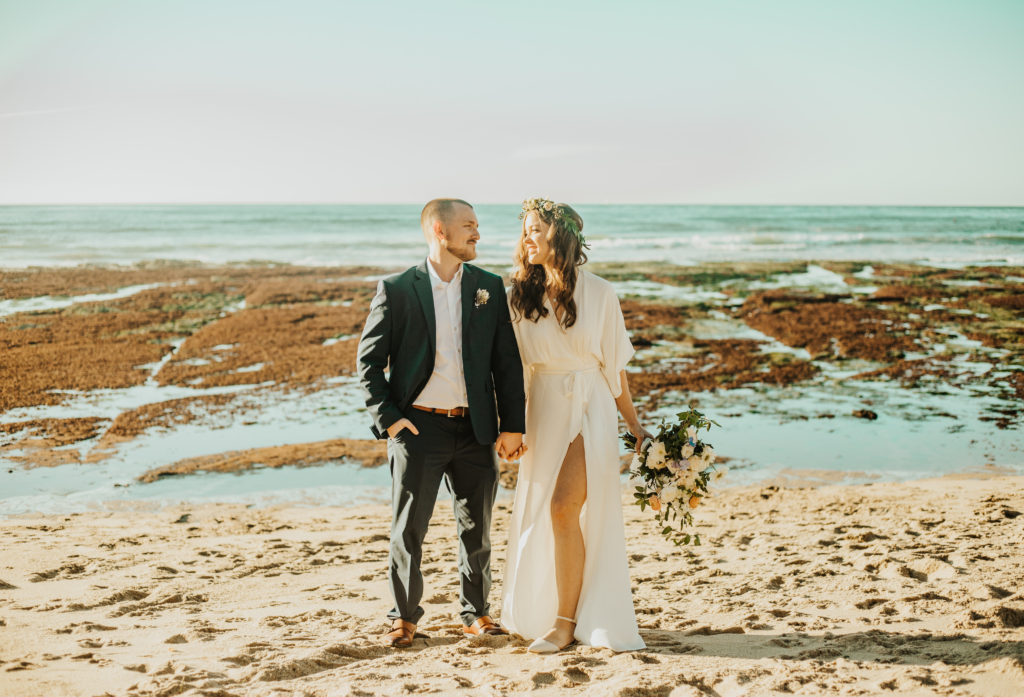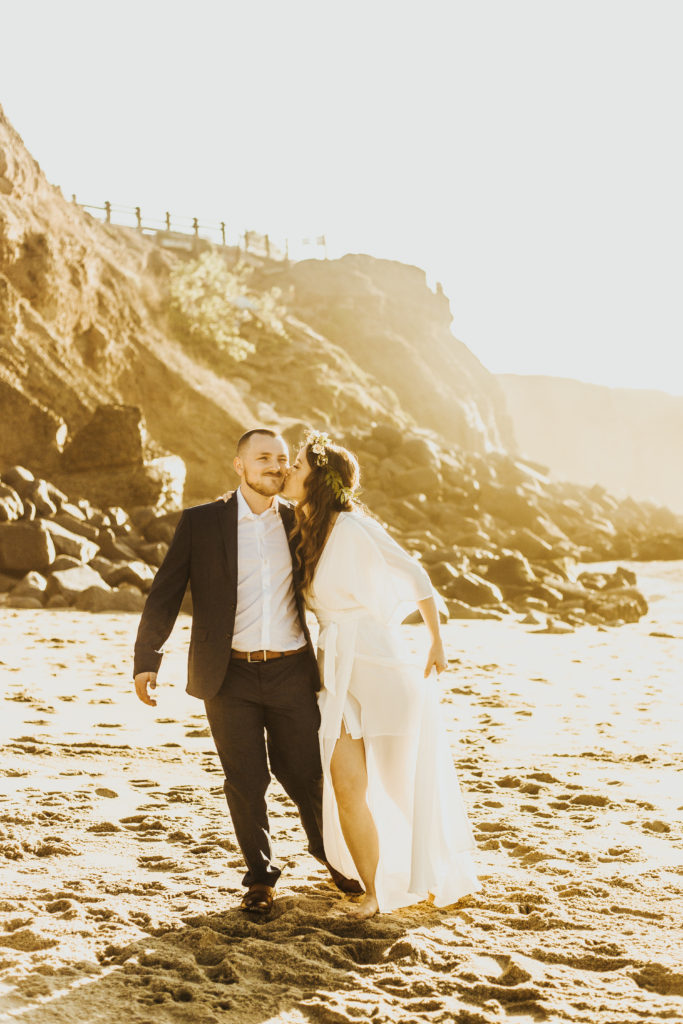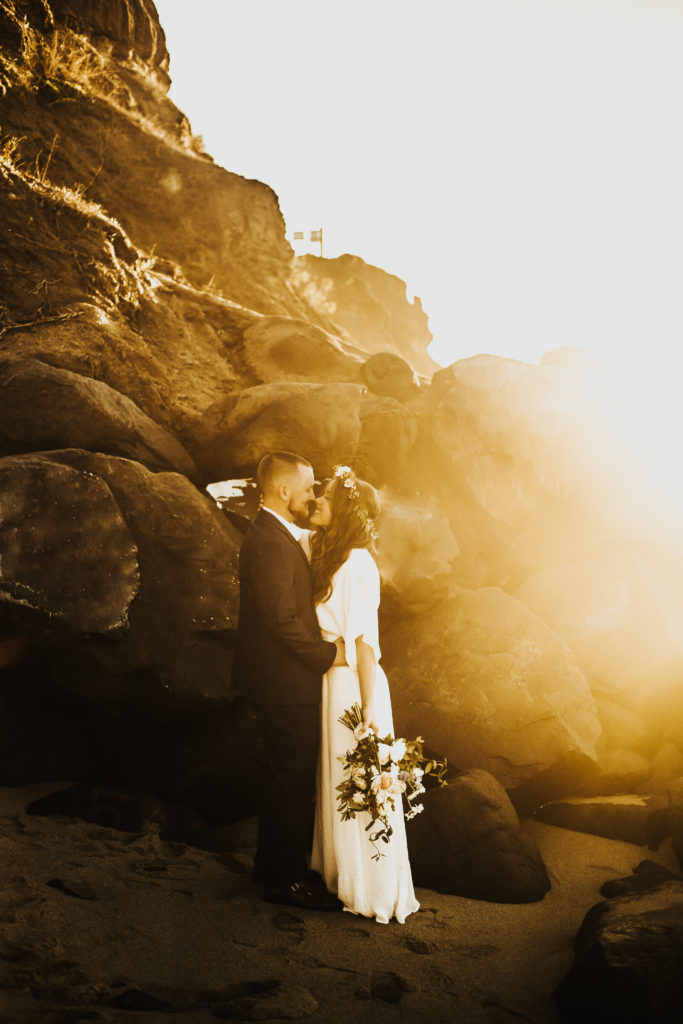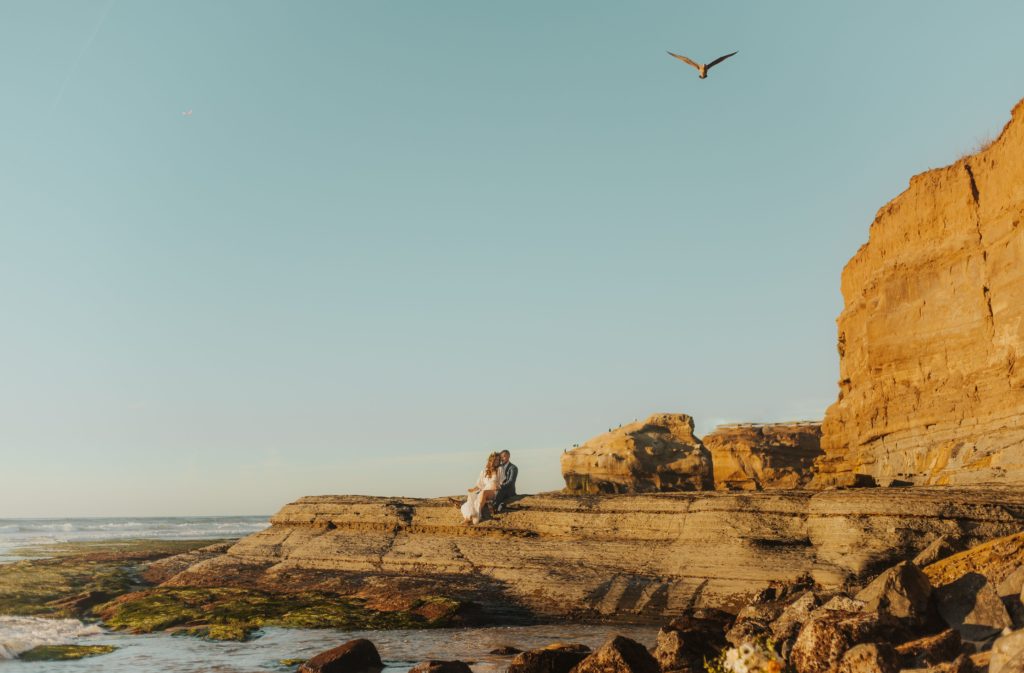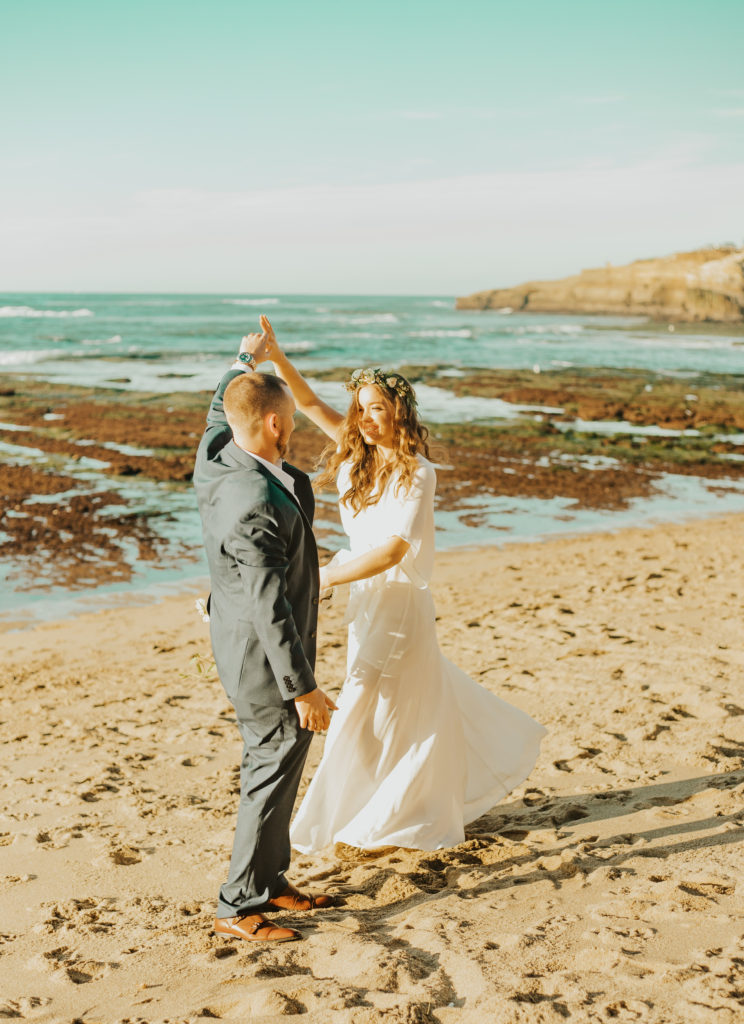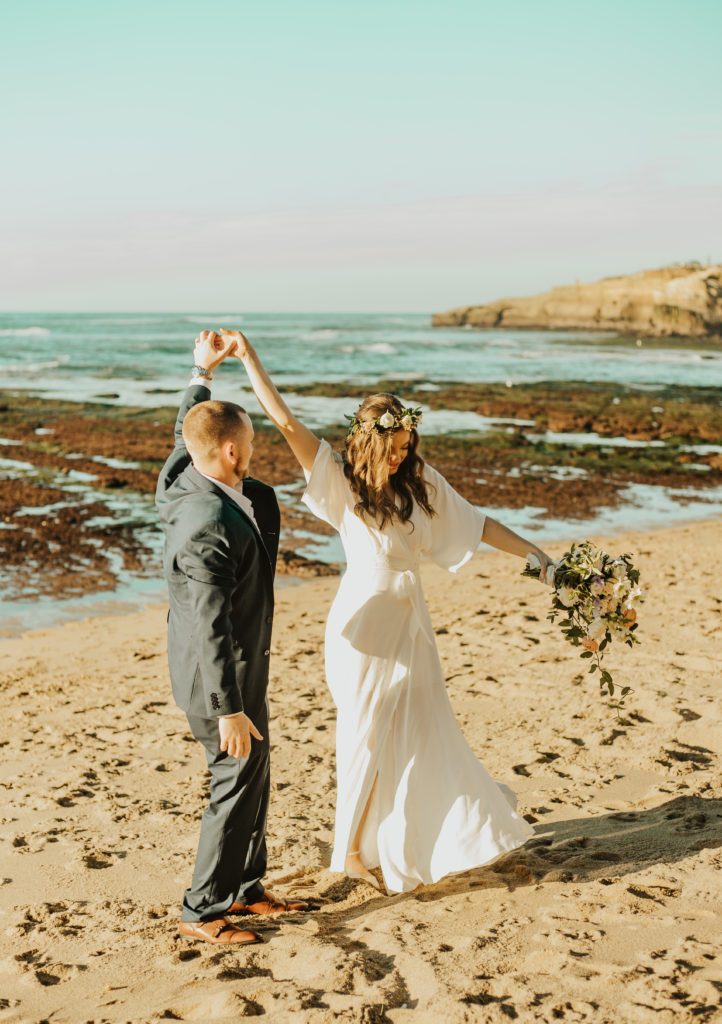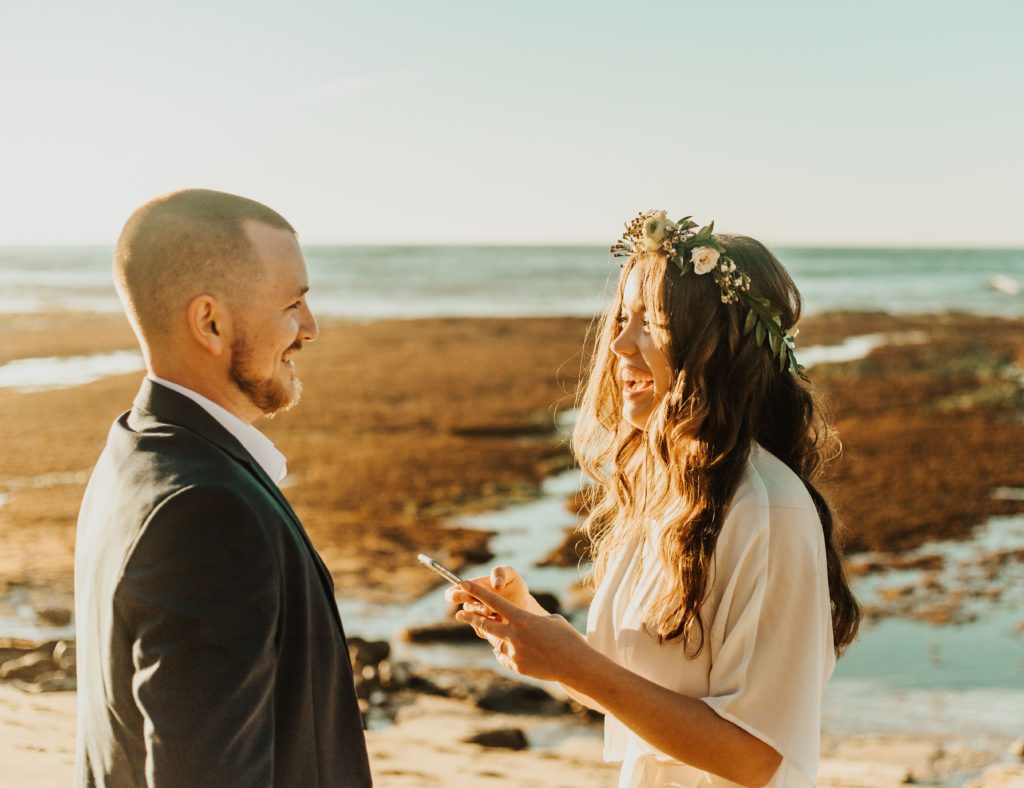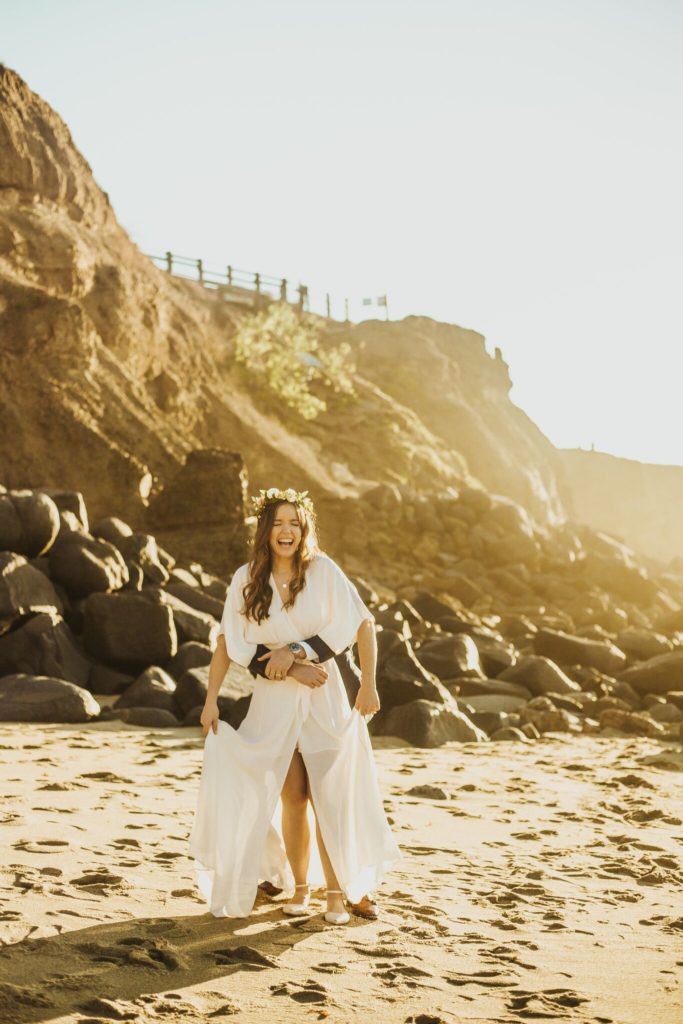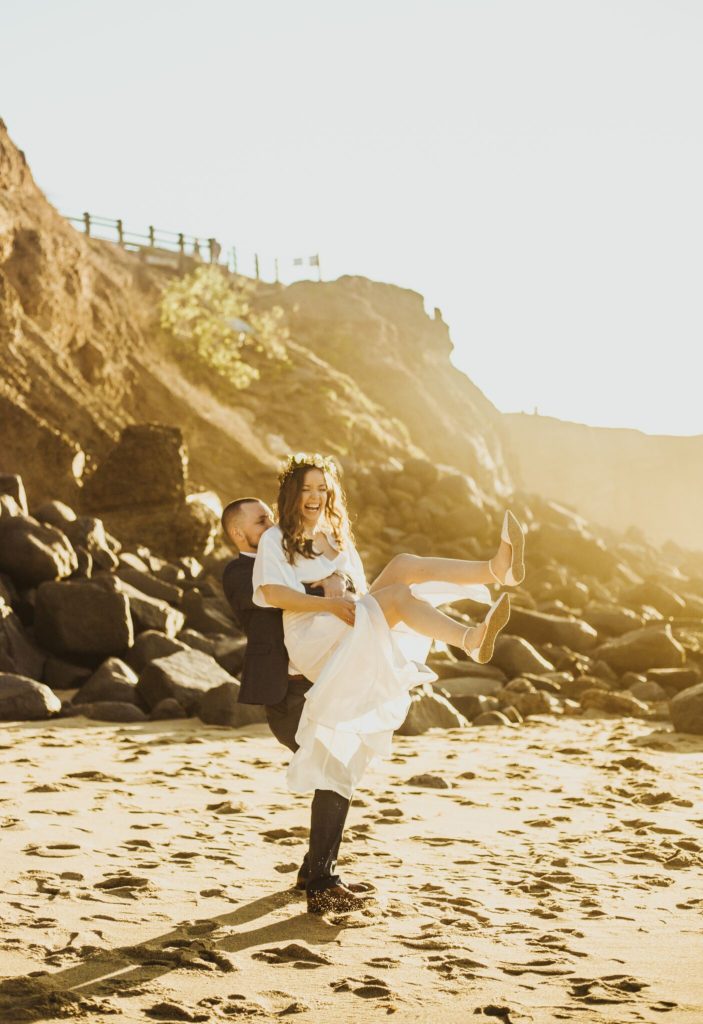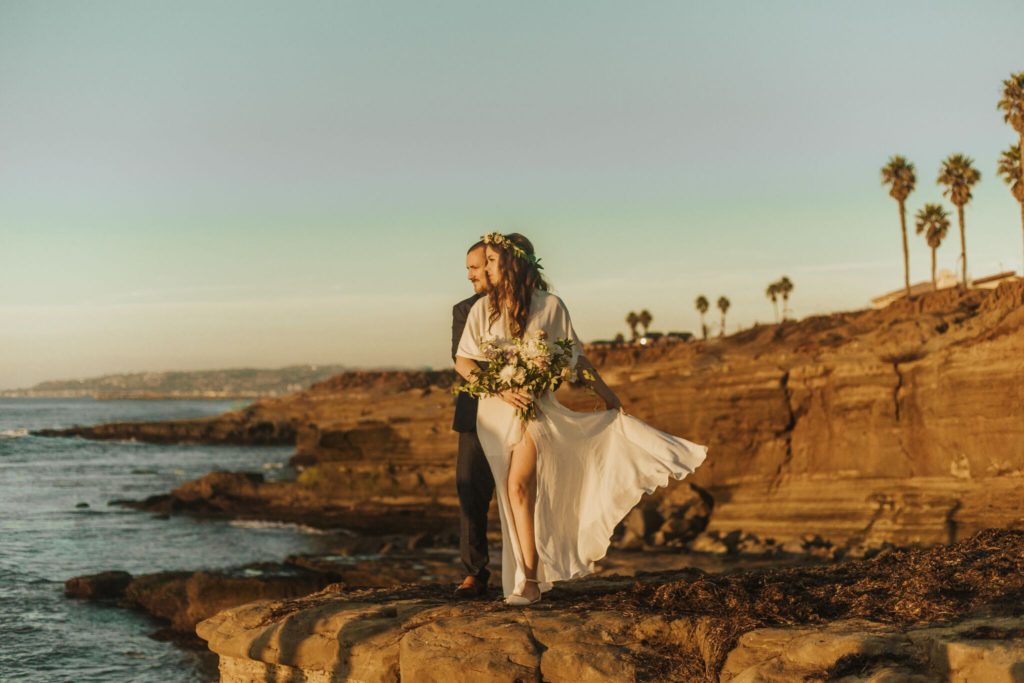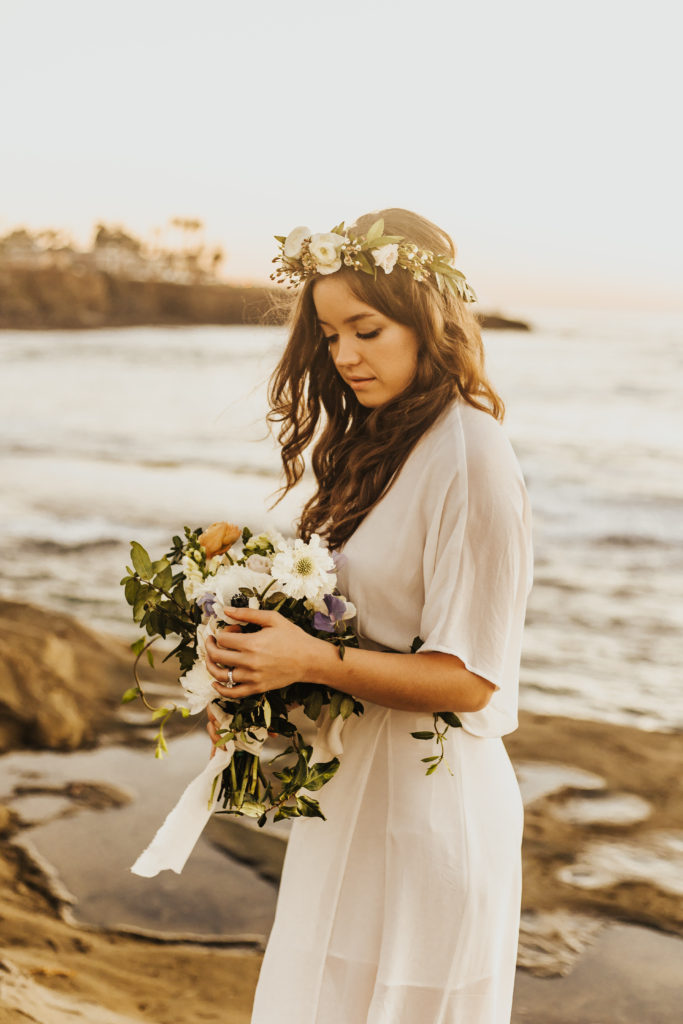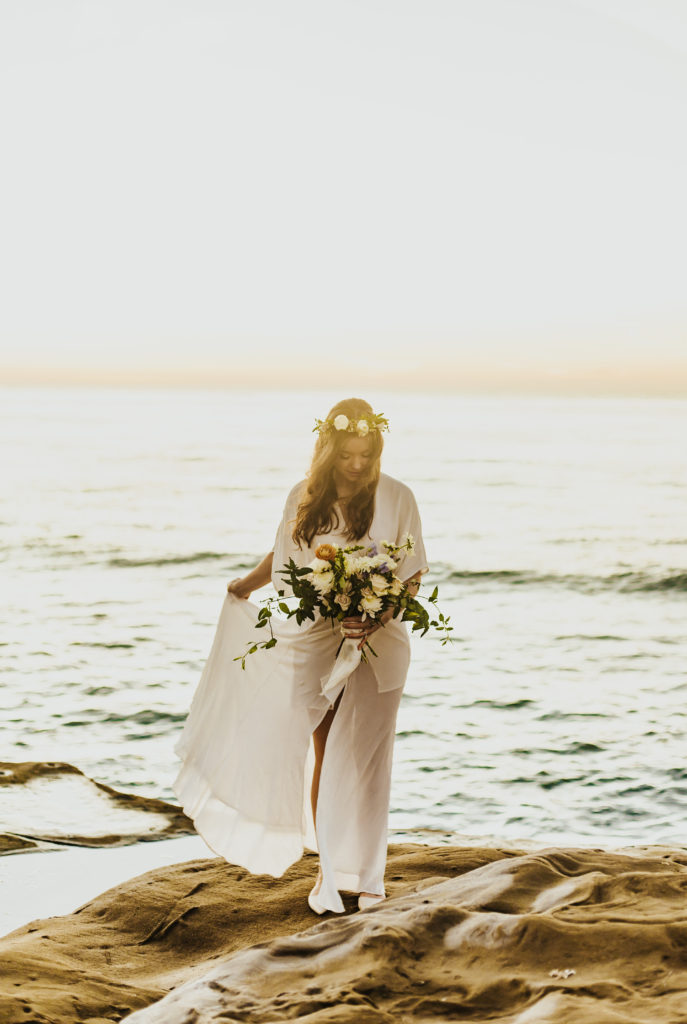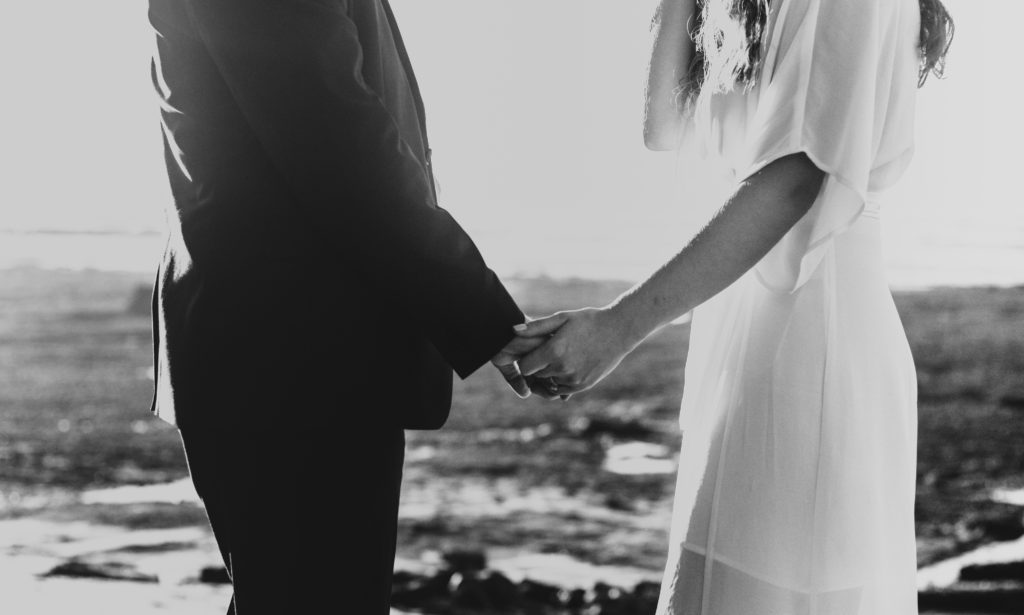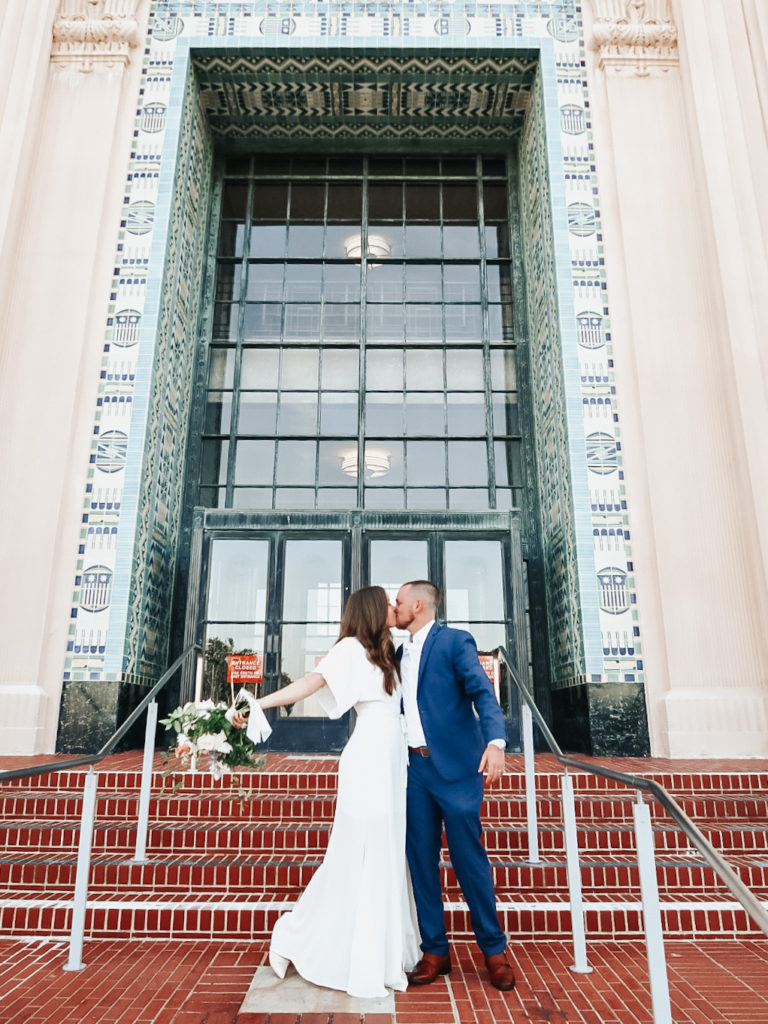 vendors and links
Photographer: Michelle Tellez Photography
Beauty: Luna Beauty
Flowers: Native Poppy
Dress: Reformation Winslow Dress
My shoes: Reba Flats
Sean's Suit: Express Men
"Venues": San Diego Downtown County Administration Center and Sunset Cliffs
my advice for eloping
do what feels right to you and your partner. This day is about the both of you and no one else! While advice and opinions from others may come from a good place, listening to your own heart is the most important.
---