Cher's favorite things- April 2020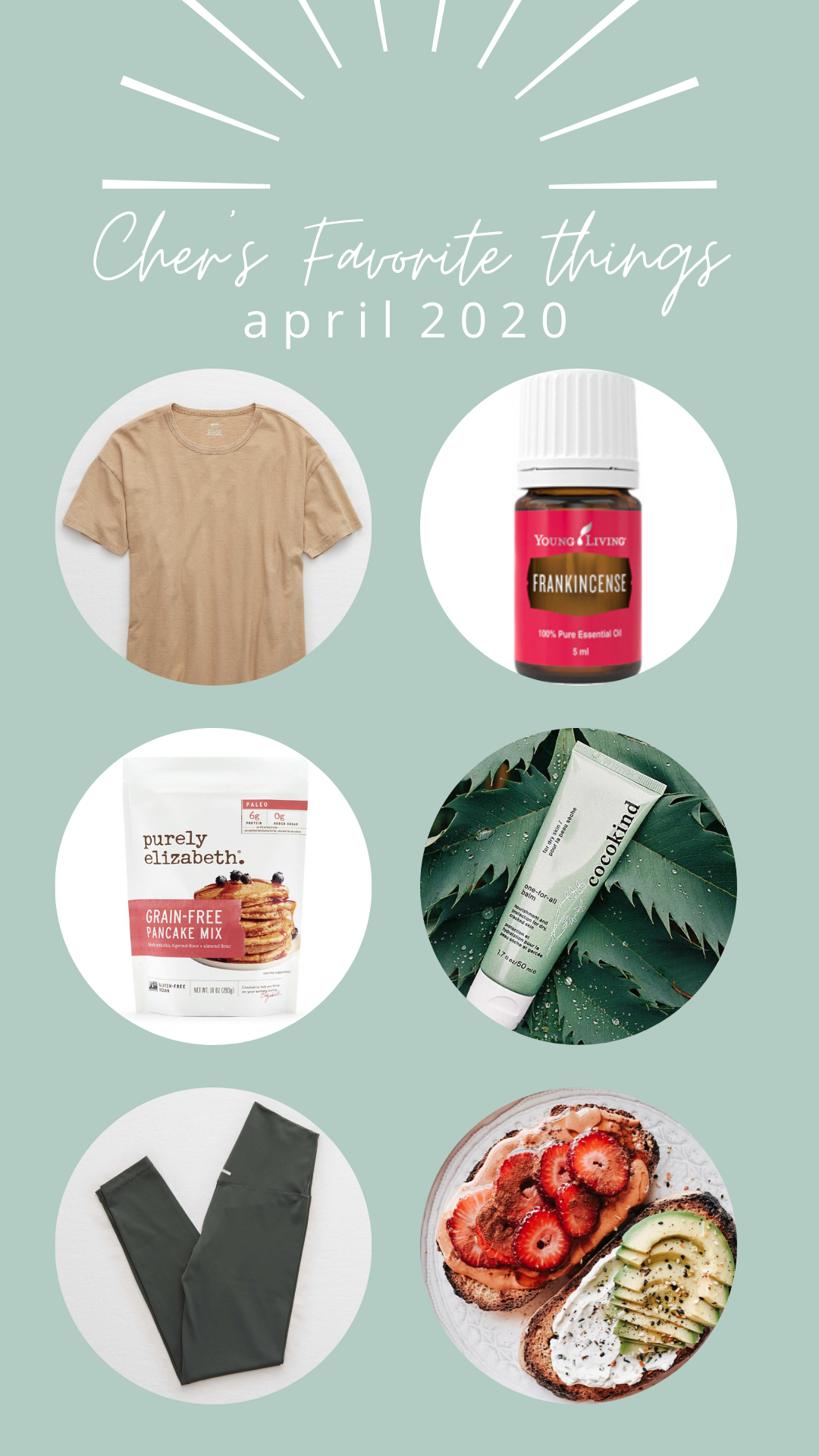 Hey hey friends, how are you doing? Times have been so strange lately and it is hard to believe that we have been living this socially distant reality for over a month now. I personally am doing much better this month after going through the initial shock and emotions when it all began in March. Taking it day by day!
While being home more, I have been trying my best to notice the magic in the little things. Cozy clothes, beautiful spring weather, pancake brunches at home, walks with the pups, and upping my overall self care have been bringing me lots of joy recently. So, I thought I would share some these things with you! Everything from wellness, food, to clothes that will maybe bring you some joy as well.
Cher's Favorite Things (you have to say it in Oprah's voice!) quarantine edition:
---
food and drink
+ This grain free pancakes mix for all the at home weekend brunches we have been doing. The texture of these are amazing and they can be made sweet or savory!
+ I ordered a loaf of this organic and gluten free sourdough all the way from California because I have heard amazing things about it for years. It 100% lives up to the praise!! I just placed another order yesterday and it feels good to support a small business during this time.
+ This coconut yogurt is made with amazing ingredients and doesn't hurt my tummy like other coconut yogurts. I have been loving it mixed in oatmeal, on top of pancakes, and with granola as a snack.
+ Everyday I have 2 oz of ningxia red with some water or sparkling water and it is the best pick-me-up! It is full of antioxidants, gives me natural energy, and I swear my skin looks better when I drink it regularly! Did you know that there are two packs of Ningixa that come in the young living starter kit?! SO good.
+ Having a little routine before bed has been so great for me recently. The first thing I do before bed is make myself a mug of this peppermint herbal tea and it is the best for relaxing me and easing digestion before sleep.
wellness and clean beauty
+ Now that warmer weather is here and I am spending more time in the sun, I have been focusing on moisturizing a lot more! This all for one balm is the dreamiest for my hands, cuticles, and any other dry spot on my skin. Also so swoon by the ingredient list!
+ I have been trying to give my skin a nice mask twice a week and I adore how my face feels after using this purifying mask. Sean also loves it which is a bonus.
+ I recently rediscovered my love for frankinsence essential oil. Ya'll this oil does ALL the things- immune support, glowy skin, sleep support, and emotional support. I apply some under my eyes each night before applying my serums, add a drop to the crown of my head for emotional support, and use it with lavender in the bedside diffuser. It is truly amazing that this oh so lush oil comes in the starter kit.
+ I have been taking these zen CBD capsules before bed and love them. It is formulated with magnesium, ashwaghanda, chamomile, and more that help promote relaxation. Use the code "CHER" for a discount!
+ I have been really into letting my skin breathe and just applying this non tox lengthening mascara during the day. It lengthens so well, doesn't smudge, and is totally clean.
+ This body scrub is actually something I have been loving for a while now. It doesn't make my skin feel oily but so soft and the scent is incredibly dreamy without being too strong!
clothing and other
+ I want every color in this oversized and distressed shirt. It is the coziest! I have two of them in small but I think a medium would be great for a baggier look or to tie a front knot tie with.
+ I got a pair of these comfy shorts last spring and had to get another because I wear them so often! So soft and perfect for sleeping or lounging in.
+ Totally obsessed with how cute and simple this ribbed bralette is! I have the color "pebble" and adore it.
+ I have been basically living in these leggings. They aren't super thick which I love now that it's getting warm outside and the high waist is perfect.
+ After chopping my hair off in February, I decided that my 9 year old straightener from high school needed to take the boot. I ended up getting this hair straightener and it is incredible! It smooths out all my frizz and it takes me less than 10 minutes to straighten all my hair.
Those are my current favorites! Comment some things you have been loving recently and let me know if I should do one of these every month! XOXO Cher
---
this post does contain affiliate links but as always, all opinions are my own. Thank you for supporting Wildly Wholesome!
---