White Bean and Kale Soup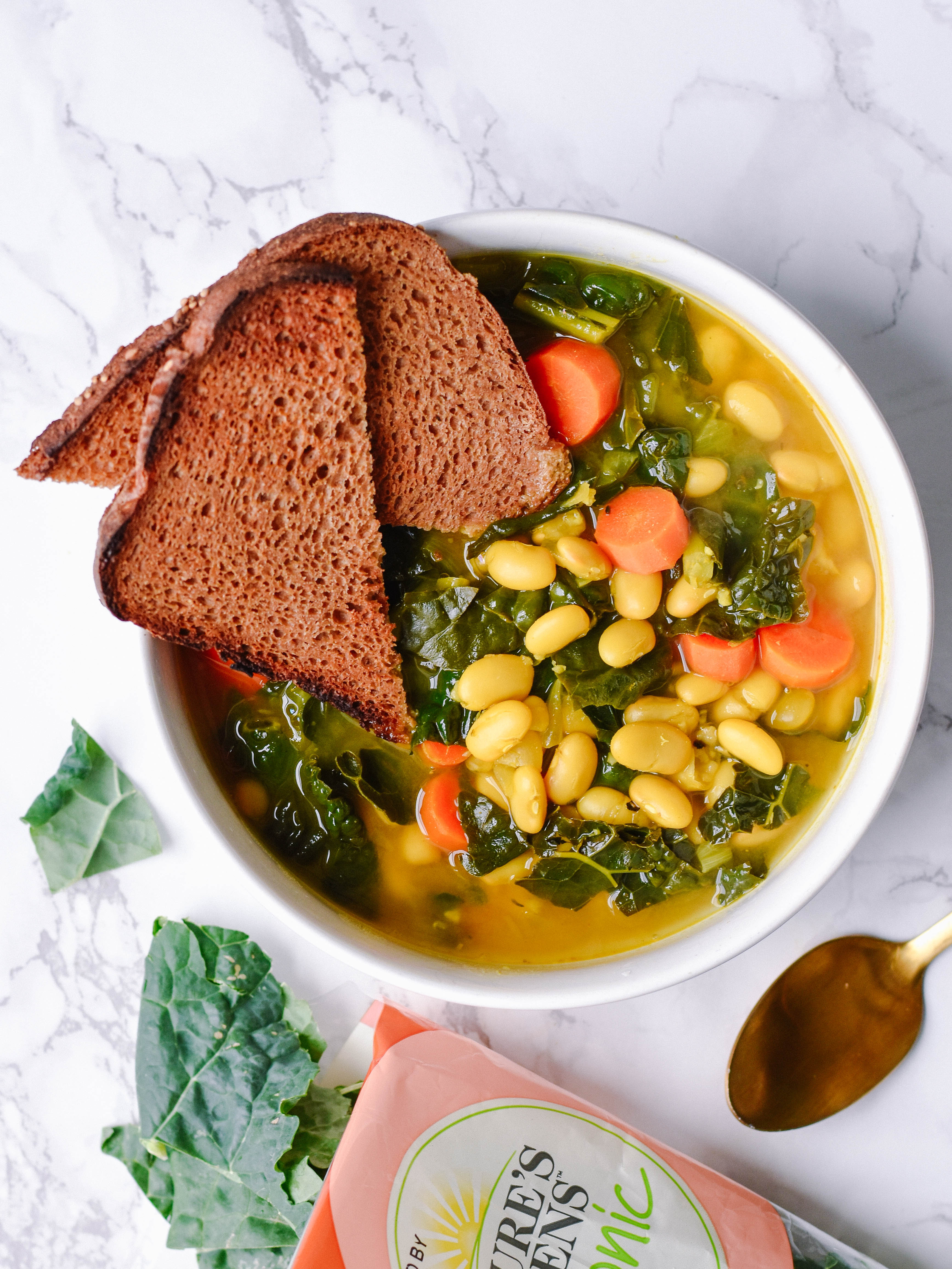 This winter, cozy soups have become a staple for me. Not sure why, but until this past year I have been intimidated to cook up my own soups. I told myself that they were too complicated and would lack in flavor. Thankfully, I have overcome that and now know that soups are beyond easy to whip up and with the right seasoning can be packed with flavor! 
This white bean and kale soup is full of immune boosting foods that are great for this time of year! Carrots are an antioxidant powerhouse, garlic is antibacterial, turmeric is an anti-inflammatory super hero, and kale is one of the most nutrient dense foods we can consume. (Watch out, cold season!)
With protein rich white beans, and a side of crunchy toast, this soup makes the best dinner for a cozy winter night in watching Netflix!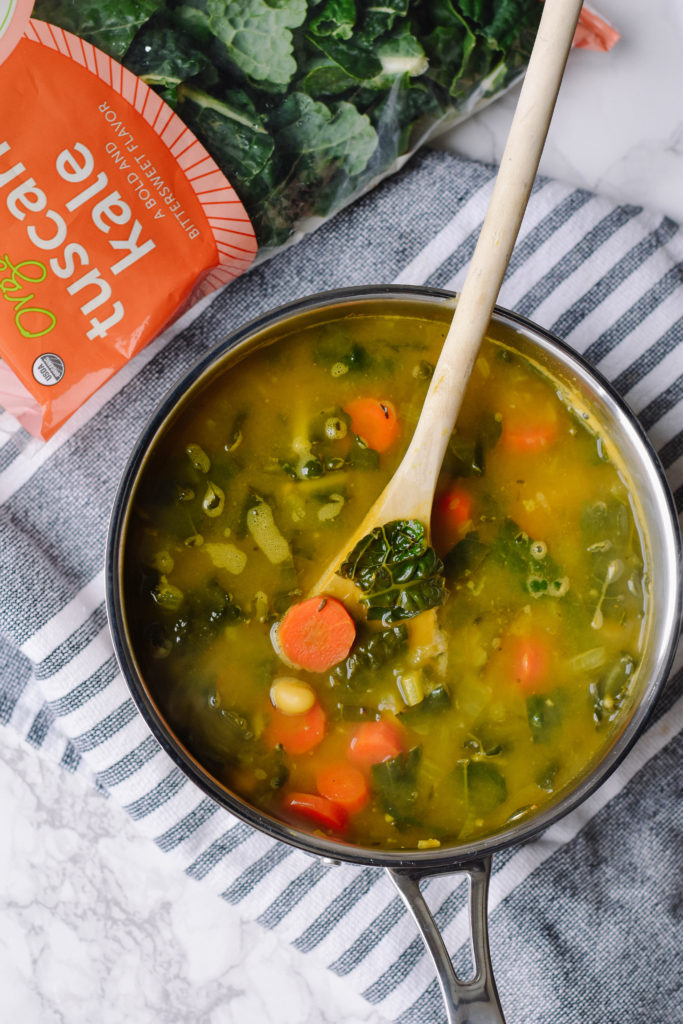 White Bean and Kale Soup
Ingredients:
1 cup chopped white onion (about 1/2 medium onion)
1 cup chopped carrots
2 large garlic cloves, minced
2 packed cups chopped kale ( I used Nature's Greens Organic Tuscan Kale)
1 16 oz. can of white beans, drained and rinsed
1 Tbs. coconut oil
1 tsp turmeric powder
1/2 tsp dried thyme
4 cups vegetable broth
Juice of 1/2 lemon
Salt and pepper to taste
Instructions:
Add the coconut oil to a 3 quart pot and heat to medium heat. Once the oil has melted, add in the chopped onion, chopped carrot, and the minced garlic. Cook for about 5 minutes, sautéing often, or until the onions have become translucent.
To the pot, add in the turmeric powder, dried thyme, salt, and pepper. Cook for another minute.
Add in the broth, beans, kale, and the juice of 1/2 lemon. Stir. Bring to a boil then cover. Reduce heat to a simmer.
Let simmer for 20 minutes, then enjoy!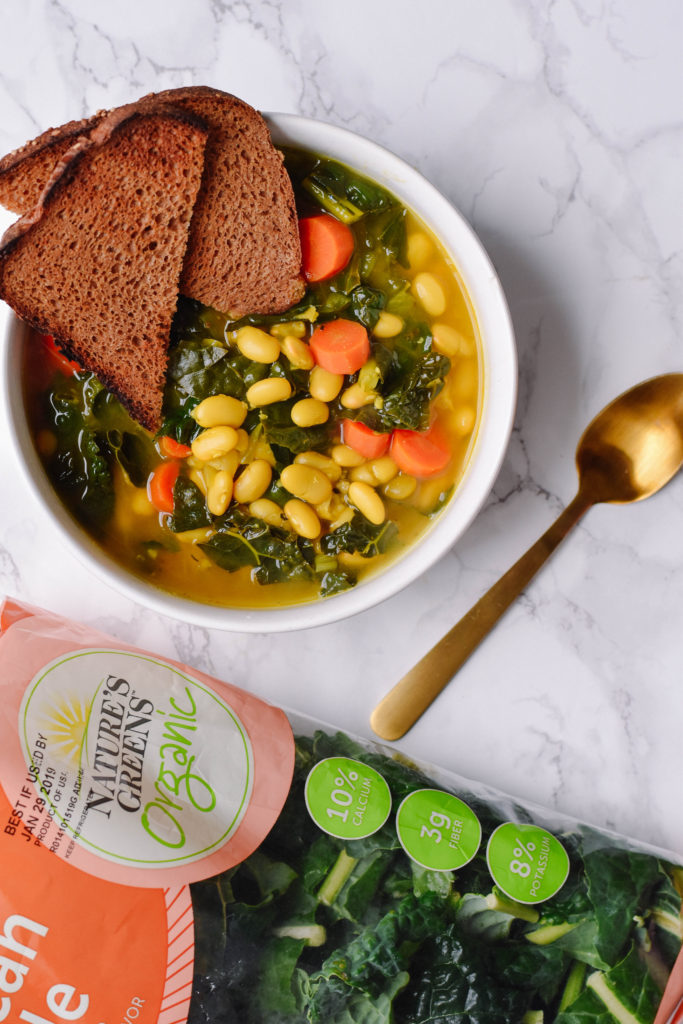 *This post is sponsored by Nature's Greens. All thoughts and opinions are my own. Thank you for supporting Wildly Wholesome!

---